Athletic Greens vs Amazing Grass: Ingredients Comparison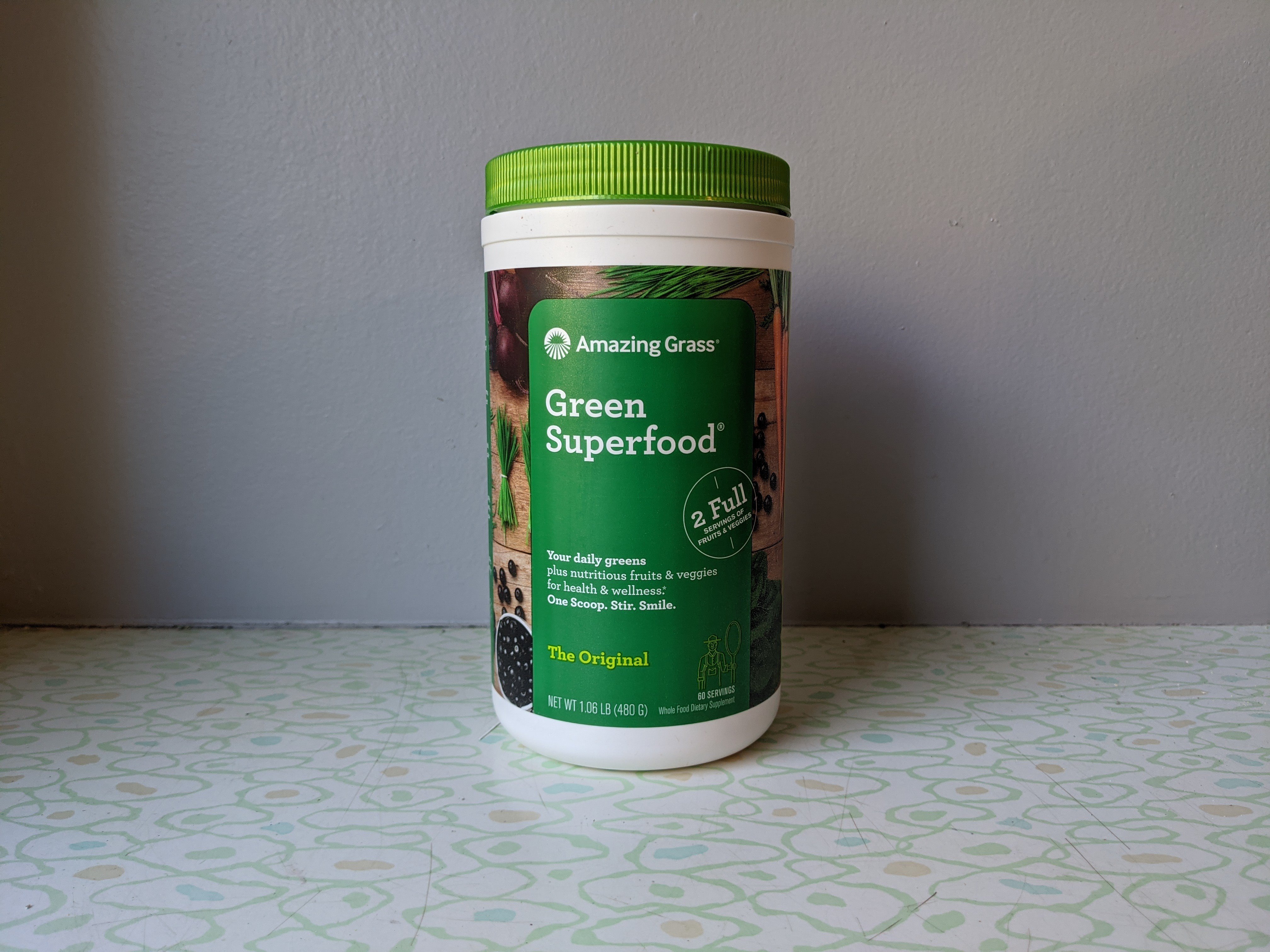 Athletic Greens and Amazing Grass both exist in the superfood, green powder segment. When purchasing a green superfood powder, I noticed Athletic Greens commanded an over 5X premium per serving over Amazing Grass.
Worth it?
Initially hard to say as neither company just lists out the ingredients in plain text.
Both companies should clearly list what they are putting into their products on their website from an accessibility standpoint. Tisk Tisk.
I did the heavy lifting and transposed the plain text version of the ingredients myself and compared. I'm sharing the comparison in the hopes that it helps someone else.
Number of Ingredients
Athletic greens packs a lot more individual ingredients into the bag.
Athletic Greens: 49 ingredients
Amazing Grass: 23 ingredients
(sorry Amazing Greens, the product doesn't list 75 ingredients rather 48. The statement "Daily Nutritional Insurance Made from 75 Optimal Ingredients" on your website is misleading at best. Getting to 75 by adding the nutrition label values to what your physically put into the product is not how I would add those two things. If I eat one steak it might have one ingredient, steak, and 10 different vitamins and minerals. It's still one ingredient.)
(sorry Amazing Grass - natural flavor and silica don't count here)
Amount of Greens per Serving
Athletic Greens: 7.4g of greens per 12g serving size (62% Greens)
Amazing Grass: 5.7g of greens per 8g serving size (71% Greens)
You get 30% more greens per serving with Athletic greens with more "other" stuff. Amazing Grass packs 9% more greens by weight than the Athletic Greens offering. Controlling for more greens per serving in Athletic Greens, the actual price per serving for greens drops a bit below the 5x+ mark to ~4.75x.
Price per Serving
Athletic Greens: ~$3.20
Amazing Grass: ~$0.60
My take away:
I'm fine with Amazing Grass at roughly a fifth of the cost.
Check out the ingredients comparison table below to help decide what is right for you (and your wallet).  
Athletic Greens Ingredients VS. Amazing Grass Side by Side Ingredients Comparison
| Athletic Greens | Amazing Grass |
| --- | --- |
| Organic Spirulina | Organic Spirulina |
| Lecithin (65% Phosphatides) | - |
| Organic Green Apple Powder | Apple Pectin |
| Inulin (Fos Prebiotics) | F.O.S. (Fructooligosaccharide) |
| Organic Wheat Grass Juice Powder (Leaf) | Organic Wheat Grass |
| Organic Alfalfa Powder (Leaf) | Organic Alfalfa Grass |
| Organic Chlorella Powder | Organic Chlorella (Cracked Cell-Wall) |
| Organic Barley (Hordeum Vulgare) Leaf Powder | Organic Barley Grass |
| Acerola Fruit Juice Extract (4:1) | Acerola Cherry |
| Broccoli Flower Powder | Organic Broccoli |
| Papaya (Caprica Papaya) Fruit Powder | - |
| Pineapple Fruit Concentrate (9:1) | Organic Pineapple |
| Bilberry Fruit Extract (100:1) | - |
| Beet Root Powder | Organic Beet Root |
| Rose Hip (Rosa Canina) Fruit Powder (4:1) | Organic Rose Hips |
| Carrot Root Powder | Organic Carrot |
| Spinach Leaf Powder | Organic Spinach |
| Cocoa Bean Polyphenol Extract | - |
| Grape Seed Extract (120:1) (Std. 95% Opc) | - |
| Green Tea (Camellia Sinensis) Extract (Leaf) (10:1) | Green Tea Leaf Extract |
| Licorice Root Powder | - |
| Lycium Berry Fruit Extract (4:1) | - |
| Ginger Rhizome Powder | - |
| Slippery Elm (Ulmus Rubra Bark Powder | - |
| Kelp Whole Plant Powder | - |
| Alkaline Pea Protein Isolate | - |
| Citrus Bioflavonoids Extract | - |
| Artichoke Leaf Extract (15:1) | - |
| Citric Acid (Anhydrous) | - |
| Rhodiola (Rhodiola Rosea) Root Dry Extract (15:1) | - |
| Eleuthero (Eleutherococcus Senticosus) Root Extract (10:1) | - |
| Rosemary Leaf Extract (4:1) | - |
| Milk Thistle Seed Extract (70:1) | - |
| R,S Alpha-Lipoic Acid | - |
| Ashwagandha (Withania Somnifera) Root Extract (5:1) | - |
| Dandelion Whole Plant Dry Concentrate (4:1) | - |
| Hawthorn Berry Extract (10:1) | - |
| Beta Glucans | - |
| Policosanol | - |
| Coenzyme Q10 (Ubidecarenone) | - |
| Stevia (Stevia Rebaundiana) Leaf Powder | - |
| Vitamin K2 (As Menaquinone-7) | - |
| Astragalus (Astragalus Membranaceus) Root Powder Extract (4:1) | - |
| Bromelain (Dietary Enzyme) | Amylase (Aspergillus Oryzae)** |
| Burdock Root Powder (4:1) | - |
| Reishi Mushroom Powder | - |
| Shiitake Mushroom Powder | - |
| Lactobacillus Acidophilus - Uala-01 | Lactobacillus Acidophilus |
| Bifidobacterium Bifidum - Uabb-10 | - |
| - | Cellulase (Trichoderma Reese) |
| - | Lactase (Aspergillus Oryzae) |
| - | Lipase (Aspergillus Niger) |
| - | Organic Acai Berry |
| - | Organic Flax Seed |
| - | Organic Maca Root |
| - | Peppermint Leaf |
| - | Protease (Aspergillus Oryzae) |
| - | Raspberry |
Athletic Greens Ingredient List
Alkaline, Nutrient-Dense Raw Superfood Complex (7388mg)
organic spirulina
lecithin (65% phosphatides)
organic green apple powder
inulin (FOS prebiotics)
organic wheat grass juice powder (leaf)
organic alfalfa powder (leaf)
organic chlorella powder
organic barley (Hordeum vulgare) leaf powder
acerola fruit juice extract (4:1)
broccoli flower powder
papaya (Caprica papaya) fruit powder
pineapple fruit concentrate (9:1)
bilberry fruit extract (100:1)
beet root powder
rose hip (Rosa canina) fruit powder (4:1)
carrot root powder
spinach leaf powder
cocoa bean polyphenol extract
grape seed extract (120:1) (std. 95% OPC)
green tea (Camellia sinensis) extract (leaf) (10:1)
licorice root powder
lycium berry fruit extract (4:1)
ginger rhizome powder,
slippery elm (Ulmus rubra) bark powder
kelp whole plant powder
Nutrient Dense Extracts, Herbs, & Antioxidants 2732mg
Alkaline pea protein isolate
citrus bioflavonoids extract
artichoke leaf extract (15:1)
citric acid (anhydrous)
rhodiola (Rhodiola rosea) root dry extract (15:1)
eleuthero (Eleutherococcus senticosus) root extract (10:1)
rosemary leaf extract (4:1)
milk thistle seed extract (70:1)
R,S alpha-lipoic acid
ashwagandha (Withania somnifera) root extract (5:1)
dandelion whole plant dry concentrate (4:1)
hawthorn berry extract (10:1)
beta glucans
policosanol
coenzyme Q10 (ubidecarenone)
stevia (Stevia rebaundiana) leaf powder
Vitamin K2 (as menaquinone-7)
Digestive Enzyme & Super Mushroom Complex 154mg
Astragalus (Astragalus membranaceus) root powder extract (4:1)
bromelain (dietary enzyme)
burdock root powder (4:1)
reishi mushroom powder
shiitake mushroom powder
Dairy Free Probiotics 7.2 billion CFU 38mg
Lactobacillus acidophilus - UALa-01
Bifidobacterium bifidum - UABb-10